In the field of foundation piling, two methods have stood out from the others over the years: screw piles and hydraulic piles. Each method has its advantages and disadvantages, as well as its specific functions. Depending on the type of project to be carried out, an expert will be able to advise you on the best solution for your situation, etc.
Alerte Fissure is the expert of choice for all projects requiring hydraulic piles.
Even though screw piles may seem more economical initially, it is essential to understand that they serve a specific purpose. While they are effective for stabilizing a gallery, a sunroom, or a small shed, screw piles are not capable of bearing the load for the entire concrete foundation of a house. Indeed, screw piles are inserted into the ground using specialized machinery that can only drive the pile to a certain depth. Moreover, due to the helix at the end of the piles, they need to be installed further away from the foundations, and the load can become misaligned if the weight of the foundation is too high. Screw piles are more cost-effective but should still be reserved for smaller projects.
Alerte Fissure only offers the service of hydraulic piling for all these reasons.
PERFECT FOR FOUNDATION PILING
Hydraulic piles, although more expensive, are the best solution for concrete foundation piling. Driven into the ground using the weight of the building and reaching deep into the soil until refusal, they are ideal for stabilizing a building's foundations. Additionally, being stronger, fewer hydraulic piles will be required to complete the work. For a long-lasting correction of a concrete foundation settlement, hydraulic piles are the most effective solution on the market. They ensure superior stability for your building, requiring minimal workspace and generating no noise or vibration during installation.
TO CHOOSE THE RIGHT SOLUTION
TO CHOOSE THE RIGHT SOLUTION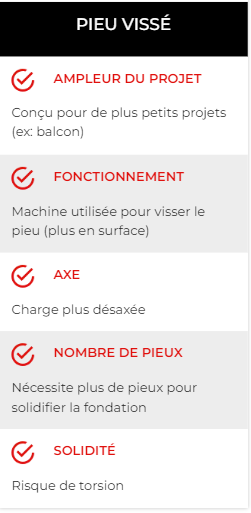 "Do you think your foundations require piling?
Consult our foundation experts for a comprehensive analysis of your situation. Following this evaluation, we will be able to provide you with detailed information about the best solution to consider, as well as the price related to the nature of the work to be carried out.